Today is a special day here at A Dash of Southern. Today marks the day where I kiss my co-sponsoring virginity goodbye! The wonderful lady behind to-calm-insanity.blogspot.com, Rebecca, asked me to co-host this blog hop with her! Of course, I accepted so here it is! Be sure to follow her blog, as well as mine (if you havn't already) then link up all your social networks!
A new month and new changes to That Friday Blog Hop! Not only is the blog hop hosted by me, but I have now teamed up with Chrissy over at A Lil' Dash Of Diva. So that is exciting! And not only that, there is a new button to go with the new changes.
So here is what we ask from all of you lovely people.
Follow the two hosts
Follow the week's special co-host
Grab the button, share it everywhere to spread the word
Hosts:
Rachel
from
A Dash Of Southern
. Stop by her blog and show her some love! You can find her blog by clicking on her adorable button below. Don't forget to leave a sweet comment there as well.
Rachel
is also one of my amazing sponsors.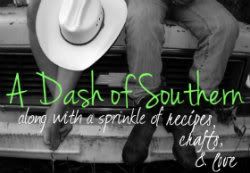 So link up all your social networks and have a wonderful Friday and weekend!